La répartition des 23 langues les plus parlées dans le monde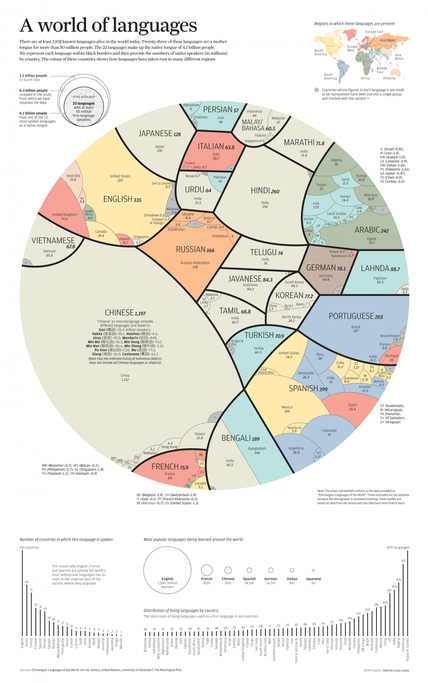 Le saviez-vous?
7100 langues environ sont répertoriées sur notre planète, énorme, non!
6,3 billions de personnes comptabilisées pour l'étude des langues parlées dans le monde aujourd'hui. Sur les 6,3 billions de personnes qui parlent différentes langues,  4,1 billions n'utilisent que 23 langues .
Connaissez-vous ces langues? l'anglais, l'espagnol, le français, l'allemand, l'italien, le portugais d'accord mais les autres?
Voici une très belle infographie réalisée par Alberto Lucas Lopez à partir des sources suivantes : l'UNESCO, les Nations Unies, l'Université de Dusseldorf , le Washington post et ethnologie-Language of the world CIA USA
le bilinguisme
Avez-vous déjà réfléchi à la place à donner ou non aux langues des familles dans vos institutions?
Formation
Nos spécialistes 
proposent des formations spécifiques au personnel petite enfance.